Welcome to May's Progress Report! Firstly we would like to apologise for the delay in publishing this report. RPCS3's progress reports are solely written by volunteers and a few of our regular writers could not contribute to this report due to personal commitments. If you hate seeing RPCS3's reports get delayed and would like to contribute to them, please apply here.
This month saw some major leaps by Nekotekina and kd-11 on the SPU and RSX fronts. Nekotekina implemented SPU PIC support while kd-11 improved the surface cache implementation. Meanwhile, Megamouse made multiple improvements to the UI, GalCiv overhauled the DualShock 3 pad handler and ruipin tackled regressions in the SPU LLVM backend when using Mega SPU block size.
In addition to the following report, further details of Nekotekina and kd-11's work during May and upcoming contributions can be found in their weekly reports on Patreon. This month's Patreon reports are:
Status update from kd-11 (2019-05-09)
Status update from Nekotekina (2019-05-14)
Status update from kd-11 (2019-05-27)
Table of Contents
This month RPCS3 reached one of the most significant milestones in game compatibility. After intensive testing and merging of duplicates, as mentioned in the previous month's report, the Playable category has tied with the Ingame category at 43.71%. RPCS3 has surely come a long way to have the Playable category stand on the cusp of overtaking the Ingame category. On the other hand, Intro section saw a modest drop while the number of Loadable and Nothing games remained unchanged. For a more detailed look, you can view the compatibility history page to see exactly which games had their status changed this month.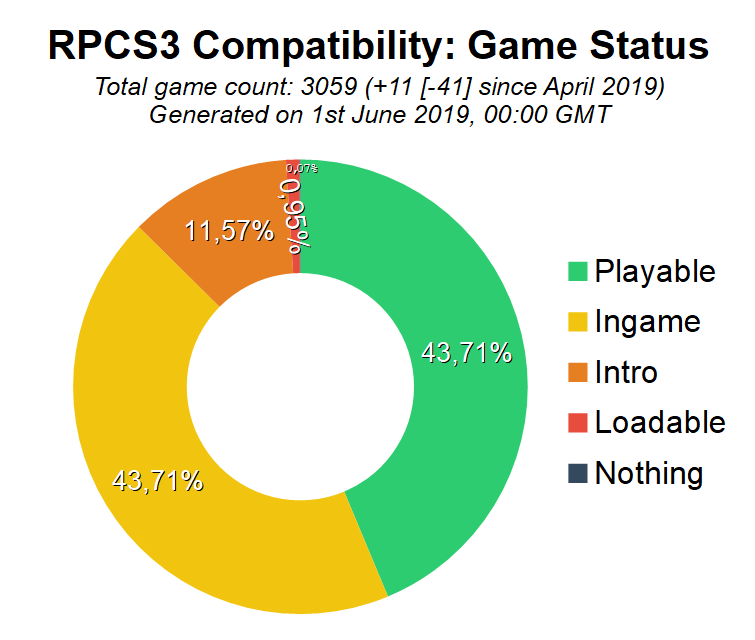 On Git statistics, there have been 9391 lines of code added and 5430 removed through 45 pull requests by 12 authors.
Continue reading Progress Report: May 2019