Welcome to October's Progress Report! Thankfully, there have been no major delays in publishing this time around, and we hope to continue gradually closing the gap even further in the future.
On the other hand, since both of our main developers were busy this month doing heavy refactors and rewrites in the background, not all of the changes are ready to be showed off just yet. While Nekotekina's current efforts aren't about yielding direct and spectacular changes to begin with, we did do a write-up about kd's changes and another graphics related PR from ruipin here in the Upcoming section below.
This isn't to say that October was without any changes, as one entry of a cult-classic and previously PlayStation exclusive AAA series, Yakuza, just hit playable this month! For this, and more, let's dive in and see what happened during the month!
In addition to the following report, further details of Nekotekina and kd-11's work during October and their upcoming contributions can be found in their weekly reports on Patreon. This month's Patreon reports are:
Status update from kd-11 (2018-10-07)
Status update from kd-11 (2018-10-21)
Status update from Nekotekina (2018-10-28, part 1)
Table of Contents
Looking at the compatibility database, we can see the numbers continue to move in the right direction at a slow, but steady pace. Around 60 new games have been added to the Ingame and Playable categories, and several has transitioned up between those. Also, with the consistent bug fixes and accuracy improvements, our developers and contributors continue to chip away the Intro and Loadable categories, as well as improve the games of other categories. For further details, take a look at the compatibility history page to see which games in particular had their status' changed during the month.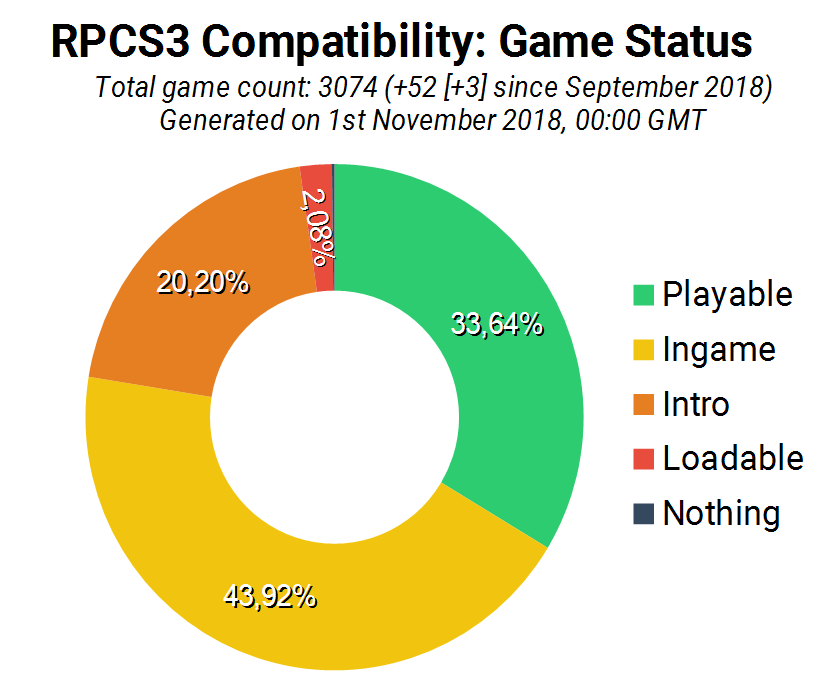 On Git statistics, there have been 4,128 lines of code added and 2,583 removed through 30 pull requests by 8 authors.
Continue reading Progress Report: October 2018