August has been an amazing month for RPCS3 as we crossed multiple new milestones. This month saw massive performance improvements to many AAA titles, accuracy and performance enhancements to SPU LLVM, support for C++ 2017, laying the foundation for macOS support and much more!
In addition to the following report, further details of Nekotekina and kd-11's work during August and upcoming contributions can be found in their weekly reports on Patreon. This month's Patreon reports are:
Status update from kd-11 (2018-08-09)
AAA PR Update
Status update from kd-11 (2018-08-21)
Status update from Nekotekina (2018-08-30)
Table of Contents
The Playable category has finally crossed 1,000 titles milestone! Considering that this time last year, the Playable category was only a little over 400, it truly demonstrates the amazing pace of development. For all other categories, we can see the metrics moving in the right direction with the elusive Nothing category dropping by 1, with only 5 games remaining in it. For a more detailed look, you can view the compatibility history page to see exactly which games had their status changed this month.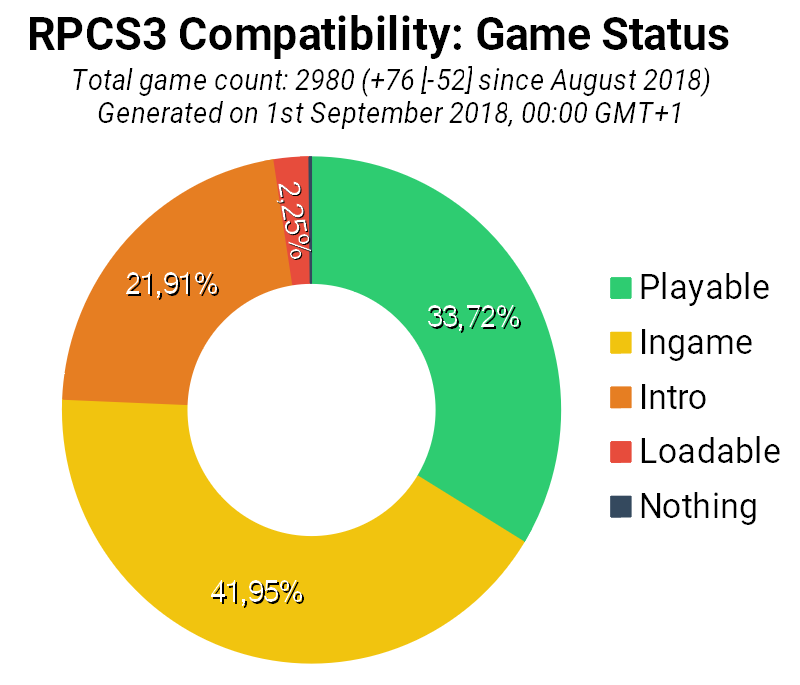 On Git statistics, there have been 7,086 lines of code added and 4,298 removed through 127 commits by 21 authors.
Continue reading Progress Report: August 2018