November was one of the most interesting months of the year thanks to the huge amount of games that jumped out of Nothing into the Ingame/Playable categories. This is in part thanks to the hard work announced in December 1st, which made many previously non-working big titles now start working on RPCS3. Of course, some of the progress towards this announcement was merged gradually during the month of November. In this Progress Report, major emulation improvements will be detailed, followed by a list of noteworthy, interesting, and representative games that improved from these, and lastly individual contributions will be looked at closer.
Table of Contents
First things first, the compatibility statistics. In November we saw the category of games that do absolutely Nothing go down by over 100 games, and this while not taking in account any of the games that had reported improvements in December!
We are therefore making a prediction right now: thanks to the SPU/RSX fixes, amongst several other improvements: the number of known games that do Nothing will be less than 100 before the end of the year!
That is quite the feat because when the RPCS3 project got revitalized in January, thanks to Patreon and the full time employment of Nekotekina we had less than 100 games that were Playable – that to quite a lower standard than today. And the category Nothing didn't even exist because we argued that "What is the point? Almost every game does Nothing anyway". How far have we come!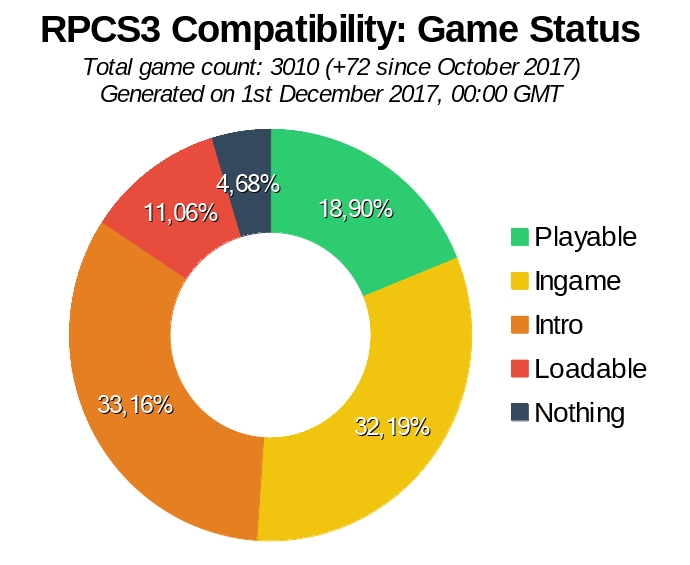 Looking at the GitHub statistics for November 16 authors have pushed 172 commits with roughly 11,000 added lines of code, and 5,000 deletions.