Welcome to September's progress report! Firstly, we would like to apologize for the delay. Our progress reports are written by voluntary writers and sadly most of them were unavailable to contribute this month. However, there is a silver lining here. The additional time we had gave us a unique opportunity to convert this month's progress report into a technical exposition hybrid!
We'll be featuring a deep dive into the inner workings of the texture cache in RPCS3, and how it was improved thanks to the contributions of ruipin and Nekotekina. We will also uncover the wide variety of improvements that kd-11 made and showcase some massive improvements to various AAA titles. Without further ado, let's jump straight into September's irregular progress report!
In addition to the following report, further details about Nekotekina's and kd-11's work during September and about their upcoming contributions can be found in their weekly reports on Patreon. The month's Patreon reports were:
Status update from kd-11 (2018-09-10)
Status update from Nekotekina (2018-09-17)
Status update from kd-11 (2018-09-23)
Table of Contents
In the compatibility database statistics, we can see all the numbers moving further in the right direction. The Ingame category has breached the 1300 games barrier while Playable continues to slowly raise due to the amount of time it takes to make a playable compatibility report. Intro also saw a decent reduction as a result of recent improvements and lots of testers making compatibility reports. For more details, take a look at the compatibility history page, to see which games in particular had their status' changed during the month.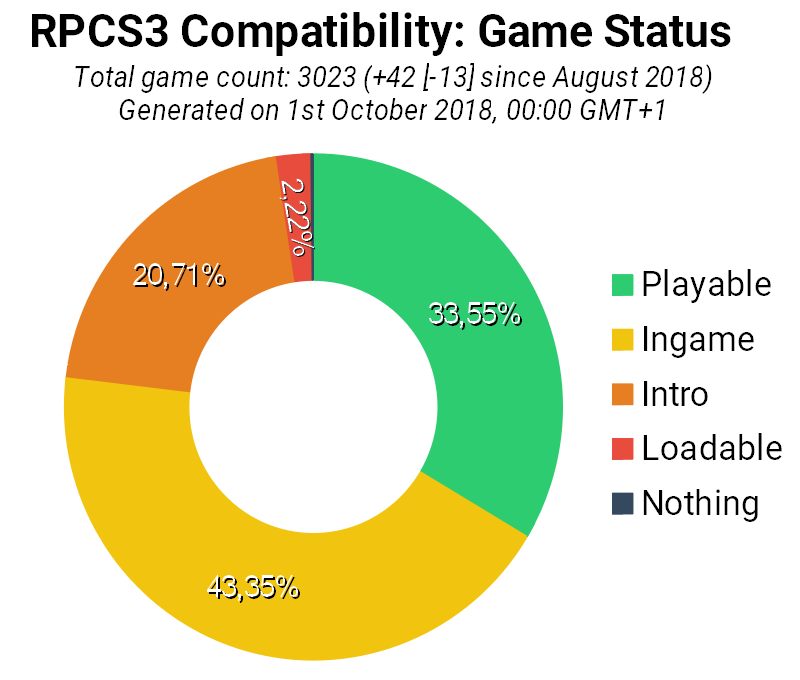 On Git statistics, there have been 10,178 lines of code added and 6,751 removed through 53 pull requests by 12 authors.
Continue reading Progress Report: September 2018