RPCS3 continues to see major improvements over the month of May, with Nekotekina implementing SPU LLVM (still WiP) and kd-11 continuing with improvements to RPCS3's RSX emulation. More major AAA exclusives have also started to go ingame for the first time! We also saw new contributors join in and make much appreciated improvements to RPCS3.
In addition to the following report, further details of Nekotekina and kd-11's work during May and upcoming contributions can be found in their weekly reports on Patreon. This month's Patreon reports are:
Status update from kd-11 (2018-05-05)
Status update from Nekotekina (2018-05-14)
Status update from kd-11 (2018-05-20)
Status update from Nekotekina (2018-05-29)
Table of Contents
The Nothing category is now at an all-time low, reducing by just over half, work is already being done to make this category shrink even further! The Playable category has had another nice increase, as more Playable titles were found. Furthermore, many entries for the same Game Media on the list were merged (due to new reports for different regions being submitted these past months), so the overall game count has decreased, even though there were new unique submissions. For a more detailed look, you can view the compatibility history page to see exactly which games had their status changed this month.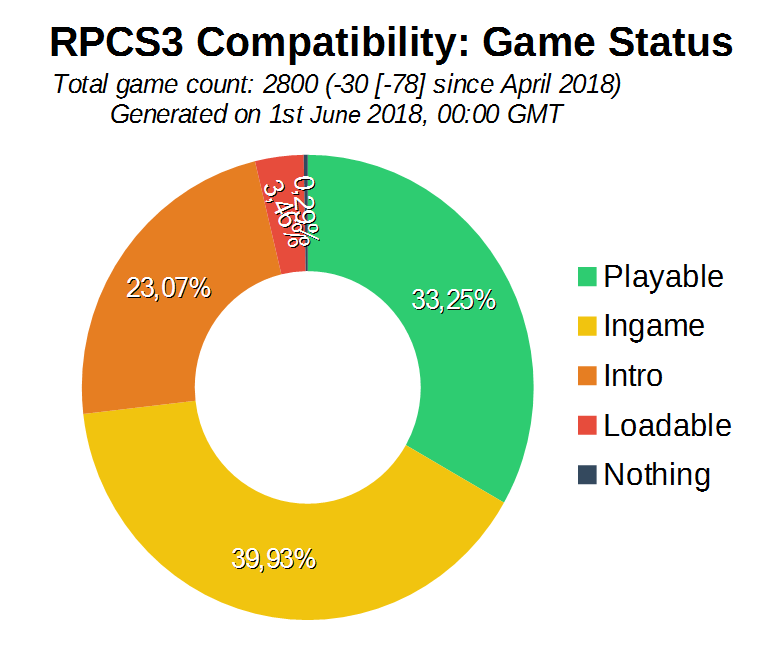 On Git statistics, 23 166 lines of code were added and 6 732 were removed by 17 authors.
Continue reading Progress Report: May 2018