Welcome to November's Progress Report! As 2018 now comes to close, we hope you're enjoying the holiday season. In this report, we will be detailing kd-11's work on rewriting the FIFO and draw call processing which provides a noticeable improvement in performance in quite a few games. This month also saw the return of another long-time contributor, GalCiv whose contributions fixed a large number of regressions in multiple games. We also saw exclusive titles such as Gran Turismo 5 and MLB: The Show 16 go ingame for the first time on RPCS3. We've got lots to share so let's jump straight into it!
In addition to the following report, further details of Nekotekina and kd-11's work during November and upcoming contributions can be found in their weekly reports on Patreon. This month's Patreon reports are:
Status update from Nekotekina (2018-11-04, part 2)
Status update from kd-11 (2018-11-08)
Status update from kd-11 (2018-11-24)
Status update from Nekotekina (2018-11-30)
Table of Contents
For the first time, the percentage of games in the Ingame and Playable categories have risen above 80%. This marks yet another milestone in game compatibility for RPCS3. As the accuracy and performance improves, we will see this ratio improve even further! Thanks to the intensive testing done by our testers this month, 95 games were moved out of Intro and Loadable categories. Also, multiple duplicate titles across all categories were identified and merged, improving the overall accuracy of the compatibility list. Finally, the elusive Nothing category has dropped to just 4 games. For a more detailed look, you can view the compatibility history page to see exactly which games had their status changed this month.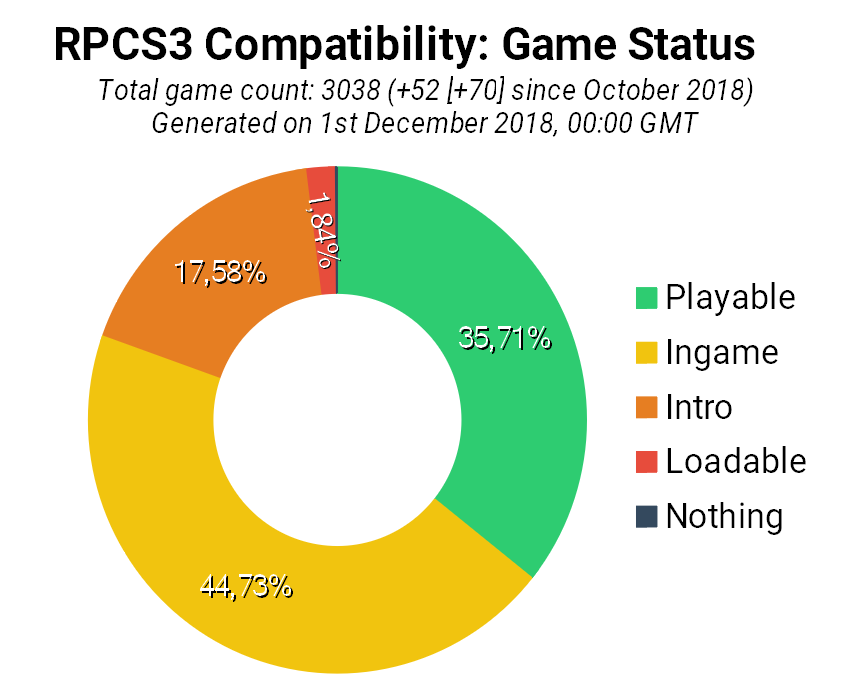 On Git statistics, there have been 4,229 lines of code added and 1,843 removed through 30 pull requests by 11 authors.
Continue reading Progress Report: November 2018