Welcome to February's Progress Report! This month saw smaller number of contributions from our regular developers as most of the improvements were still a work-in-progress that required further tweaking before they could be merged in the upcoming months. That's not to say this February didn't have big improvements though. On the contrary, this month kd-11 finally implemented the much anticipated On-Screen Keyboard while GalCiv managed to emulate multiple PlayStation 3 accessories using regular controllers. If that wasn't enough, thanks to the multiple other performance improvements to the emulator, exclusive titles such as Genji: Days of the Blade have seen a huge uplift in performance.
In addition to the following report, further details of Nekotekina and kd-11's work during February and upcoming contributions can be found in their reports on Patreon. This month's Patreon reports are:
Status update from kd-11 (2019-02-08)
Table of Contents
This month saw RPCS3 reach another milestone in game compatibility with the Ingame and Playable categories cumulatively crossing 85%! This was largely thanks to the conscious efforts of testers to retest all games in Intro, Loadable and Nothing categories and report issues faced to the developers. Once provided relevant causes, our developers were able to fix issues plaguing many of these titles. Their efforts paid off with the Intro category decreasing by 66 titles. But this is just the beginning, with further work being done to improve these titles.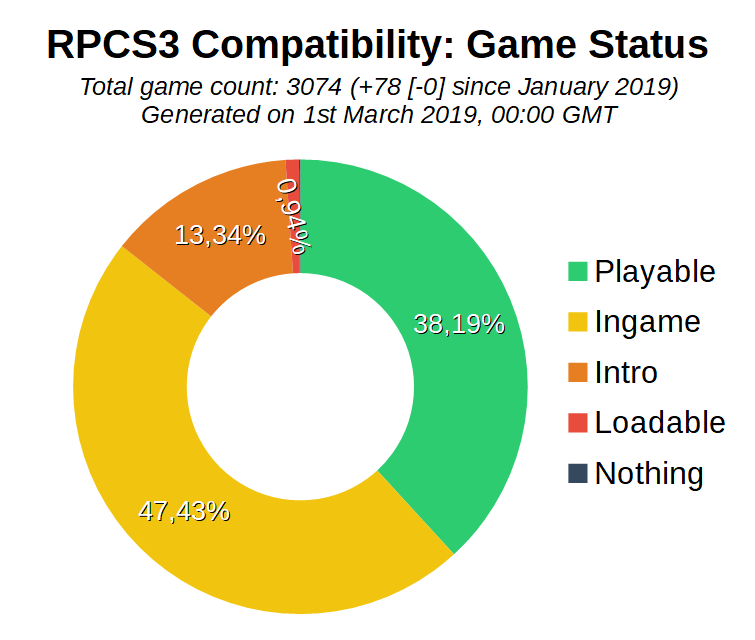 On Git statistics, there have been 2209 lines of code added and 447 removed through 21 pull requests by 9 authors.
Continue reading Progress Report: February 2019